What We Do
online card payments what we do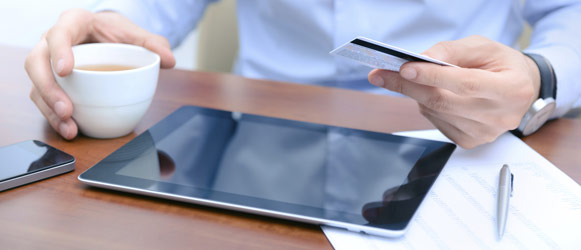 Online Payments Limited build bespoke card payment systems to make processing card transactions easy and efficient. Our systems are designed to take the hassle out of processing card payments without losing any control or reporting clarity.
Everything that we do is designed to improve your own customer service, speed up your processes and save you money.
Our online payment system can display your sales ledger data online as well as copy documents such as copy invoices so that your customers may view and print these thus saving you time and cost.
A query management system may be built in which allows your customers a new method of contacting you.
Any forms that you wish your customers to complete such as credit applications can be made available for completion online.
As market leaders we can guide and advise you as to how best to make the most of both card processing and online credit management which are our areas of expertise.
---
All our systems are
The online payment system will be entirely "white labelled" for your company. Your customers will not know that we exist (unless you want them to) as it will be your logos and branding that is used.
Our dedicated servers are designed for security, compliance and reliability to give you assurance. This also means that there is absolutely no additional work for your own IT resources.
All funds are always directed straight into your bank account – we never lay a finger on it!
Your system will designed with the user in mind; it will be quick and simple to use - guaranteed.
With 24/7 service to your customers, give them more than online card payments with OPL's extra customer services features.
We know that obtaining the highest compliance status can be a tricky process; putting all your card details straight in to our compliant system leaves the worry to us!
All of your staff will have their own unique log-in with the authority levels chosen and controlled by you.
We accept any currency that you trade in and transfer funds directly into your currency specific bank account.
The system is based online so any authorised staff with a computer, laptop, tablet or smart phone connected to the web can process card payments – this saves your PDQ rental costs.
All customers receive a receipt automatically at the point of processing the payment to confirm its success and provide a record. This saves time and cost as producing and posting receipts will no longer happen.
Give your customers better control of their account – instead of an update once a month, our system gives a live and updated statement, anytime they want one.
Upload your invoices into our system for your customers to view online. Reproducing and resending copy documents can become a thing of the past. And this is not limited to invoices – in fact whichever documents you send regularly to your customers may be posted online saving time and a great deal of cost.
Arrange a payment schedule with your customer and our system will process it automatically for the amounts and on the dates that you agree.
At the touch of a button, clear and concise reports are available to you for auditing, accounting and performance monitoring.
The Online Payment System can accept all cards, including corporate purchase cards and American Express. We can even take transactions using Paypal accounts.
The system can automatically allocate payments directly on to your sales ledger. Because we work with your data, you can trust it to match every time!.

To see an overview of our more popular card payment packages, click here.